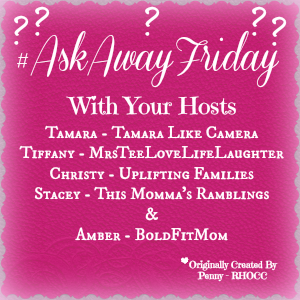 TGIF!!! It's time for Ask Away Friday again where two bloggers exchange ten questions and answer these questions on their own blogs. This week I'm teaming up with Bernadyn from B is For…Bumps and Blessing Along the Way. Bernadyn blogs about here life as a wife and mom while sharing lots of yummy recipes, blogging tips, and more.
1. What is your #1 parenting tip? Love your child just the way they are. Every child is different, so encourage your child to be themselves and love their uniqueness. Try not to compare them to other children or expect them to be like other children.
2. I cannot sing to save my life but that is a talent that I wish I had. If you could have any talent, what would it be? I would love it if I was handy and could tackle DIY projects. There are a lot projects that I would love to be able to do around my house but I'm not really handy.  My mom is such a good handy woman she tackles plumbing work, putting down new floors in her house, and more. Right now she is replacing all the rotted wood on her house before she repaints it. My mom is always telling me I can be handy if I just give it a try. So, I guess I just need to start making an effort to try more DIY projects around the house. So if there is a Talent Fairy out there please make me handy.
3. I am passionate about recycling and being more Eco-friendly now more than ever due to the influence of having kids. What is something outside of your family that you are more passionate about since becoming a parent? Breastfeeding is one thing that I have become more passionate about since becoming a parent. Growing up I never saw any of the women around me breastfeed their babies, so I never really had a desire to breastfeed. However, my husband really wanted me to give it a try because his mother breastfeed her children. Once I gave it a try and I could see that I was able to do it and that my son was growing well. I became more passionate about breastfeeding. I think that women should be supported in their decision to breastfeed and that it should be more acceptable in our society. I'm glad that it is becoming easier to find nursing stations when you go out into the community. However, I don't feel like people should try to shame women for feeding their babies in pubic. Breastfeeding is a natural act. I could go on and on about this, but I'll stop now

4. I attended a wedding this summer where the groom was a little nervous about being a newlywed and asked for my advice on tips to a good marriage. Since you have been married nearly 10 years, what have you learned that you could pass along to a nervous groom? This is a hard one to answer. Neither one of us was nervous when we got married, so I couldn't give anyone advice based off my own experience. However, just some general advice would be to take married life one day at a time. You will have good and bad days but with anything in life, your marriage will be what you make it. It is up to the two of you to keep it fun and interesting. Hopefully, they have talked about the vision that they have for their marriage and now all they have to do is work at making that vision come true.
5. If you could be any fictional character from a movie, game, play or book, who would you choose and why? This is an easy one. I would be Uncle Scrooge from Duck Tales. When I was a kid I wanted to dive  into Uncle Scrooge's money vault and take a swim just like him. I know that isn't really possible since money is hard, but as a kid it just looked like so much fun. 
6. A favorite quote from my dad while I was growing up that he liked to tell me was, "If they can do, why can't you?" He wanted me to believe in myself. What is something your parents or close relative told you that you appreciated? I know all the experts of today say that you should not tell you kids that they are smart, but I was told that I was smart growing up. I appreciated people telling me that I was smart and it gave me the courage to always want to learn more and to pursue my goals.
7. We are considering homeschooling my son next school year. For you, what's the biggest challenge of homeschooling? For us the biggest challenge about homeschooling is getting my son back on track after taking a break. We are just starting back after taking a break during the summer and my son has been complaining about doing his lessons. I'm sure this probably isn't much different from kids who complain about doing their homework.
8. I love baking homemade dessert from scratch for my family and you mentioned that you do, too. What is your favorite type of cookie and cake to make for the kids? Do they like to help out when you cook or bake? My kids love baking chocolate chip cookies from scratch. We recently found a really easy recipe on one of the Mo Willems DVDs. You melt the butter with this recipe, which I love because then we can mix it by hand vs. using the mixer.
My kids also, love making chocolate cake. We use the recipe from the back of the Hershey's cocoa container. I love this recipe because it can also be mixed by hand since it calls for oil vs. butter. Most of the time we make this in a single layer cake with no frosting but here is a picture from when we made cupcakes with frosting and added sprinkles.
9. My family is making an effort to eat healthier with more organic and gluten-free food and since I love to bake, do you have any suggestions on good brands I can use for gluten-free flour? I recently tried one and it came out with a salty taste even though I didn't use any salt at all. Sorry I don't really have one that I could recommend. You may  want to try to experiment with making you own flour blends. Before going grain free I tried a few different boxed cake/brownies but they were not as good as what I would make using all-purpose flour. I used the gluten-free Bisquick mix for making waffles and they generally turned out pretty good for gluten-free (but it still didn't compare to all-purpose flour). However, I've noticed there are a lot more gluten-free options available but I haven't tried them since I stopped eating grains.
10. You are able to save a lot on shopping and you find some really great deals. What are some suggestions you may have for shopping for the holidays? I try to approach all of my shopping the same way. Always have a list of items that you want to buy and a buy price for each item. Having a list and knowing how much you want to pay for each item will keep you from overspending. Try to take advantage of online flash sales if you don't have time to shop in-stores.
Bernadyn asked some great questions. Please stop by here blog and welcome her to Ask Away Friday and also find out what her favorite Nutella recipe is.